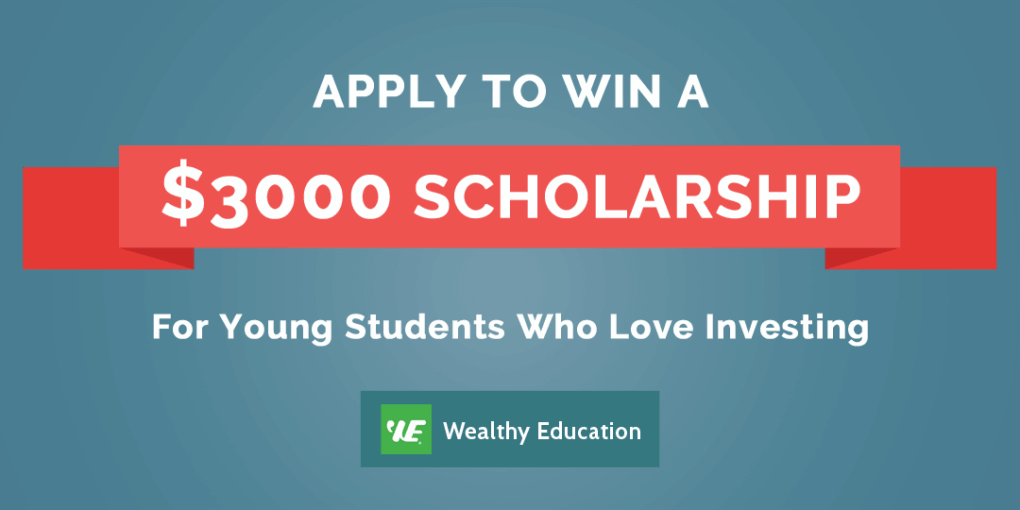 WealthyEducation.com commits to provide its readers with practical investing tactics, useful tips, and real-world case studies that will help them live more fulfilling lives with smart investments and financial independence, such as:
​Since 2014, we have helped 12,000+ students from more than 140 countries learn investing and discover a life of financial security and ease.
We believe that investment literacy helps secure your future financially and teaches you how to build a substantial amount that will help you meet your needs and counter unforeseen circumstances.
In order to spread financial literacy, we are opening our first annual Wealthy Education Scholarship Program to young students who share the same passion for investment with us.
If you think you have what it takes to receive the scholarship, we highly encourage you to give it a shot. You might just be the person we are looking for.
Who Can Join
All bona fide university and college students are welcomed to join. If you are below 18 years old, or if you're still in high school, be sure to get the consent of your parents or legal guardians before joining.
Having a strong passion for investment and personal finance is a plus as we will be choosing a scholar who believes in the same vision and values as Wealthy Education.
​How To Join
​Simple.
All we're asking for is that you write an essay that's 500 to 2000 words long about stock investment and personal finance.
But we don't want it to be just about any finance story.
Your essay must emphasize the importance of investment and valuable enough to help other people.
Keep in mind that we give premium to uniqueness, so make sure to avoid the usual boring stuff such as general advice and cliches.
Your essay must contain actionable tips that most readers should be able to relate to. In fact, the more personal it is, the better!
We will also base our judgment of your essay based on:​
Original ideas
How useful it is to the average reader
Creativity with words is a huge plus!
​In order to apply for the scholarship, candidates must follow the steps below:
Step 1: Send us an email containing the following information:​
Apply by sending us an email to scholarship@wealthyeducation.com
Email subject: [Your Name] - Wealthy Education Scholarship
Your full name with address and phone number
Name of your school
Area of study
Explain how this scholarship will help you achieve your personal and educational goals
Email us using your education-related email address (.edu, .ac.uk, etc.) or submit any proof of being a student (ID card)
​Please note: Because of the amount of emails we receive, we will only reply to your email if you are ineligible for the scholarship. If you do not receive any reply from us, this means your application is eligible.
​Step 2: Write and submit your essay before October 30, 2017:
​Please kindly use the application form below to submit your essay.
The Wealthy Education Scholarship - Submit Your Essay Before October 30, 2017!
Write Your Essay Below (500-2000 words):
Deadline Of Submission​
We will pick the winning essay on November 15, 2017. The winner will receive a $3,000 which will be sent directly to your school's Financial Aid Office or your personal Paypal account by November 20, 2017.
We'll pick the winner based on the aforementioned factors and let you know through email.
If you're the winner, you'll also get the chance to be one of our paid contributors. What more can you ask for?
Don't forget, deadline of entries is on October 30, 2017.
We run our scholarship program every year.​
Terms and Conditions​
We only accept one entry per student.
We will not charge or ask for any fee from any student who wish to join the program.
We reserve the exclusive right to use the submitted content any way it deems necessary, including marketing, branding, and/or website publishing.
You can invite your friends to apply to our scholarship program but they must prove that they are currently students by sending us an email using their education-related email address (.edu, .ac.uk, etc.) or submitting any proof of being a student (such as student ID card).
Submitted entries are expected, and should be, duly accomplished by the applicants.
Any essay which shows obvious signs of plagiarism will be automatically rejected.
Incomplete entries will not be considered and processed.
Non-English submissions are automatically disqualified.